Hak5 LAN Turtle SD + Field Guide
The LAN Turtle is a covert Systems Administration and Penetration Testing tool providing stealth remote access, network intelligence gathering, and man-in-the-middle surveillance capabilities through a simple graphic shell.
MAN-IN-THE-MIDDLE WITH MASSIVE STORAGE
With man-in-the-middle tools built in, you can gobble up all of the interesting data. Supports massive storage options from the MicroSD card reader hidden inside.
Save heaps of network traffic, or load it up with all your favorite pentest tools.
Setting up a reverse shell for persistent remote access is just a matter of checking a few boxes.
With a repository browser built-in, getting more modules is automatic.
Or write a modules with the simple API.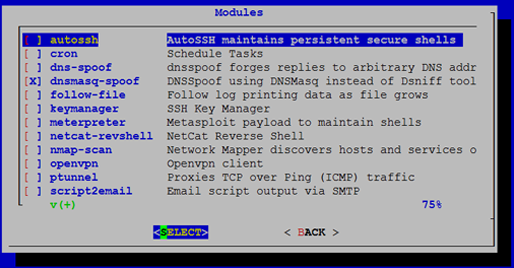 PENETRATION TESTERS
Pivot with a persistent Meterpreter session in Metasploit
Scan the network using nmap
DNS Spoof clients to phishing sites
Exfiltrate data via C2EXFIL or SSHFS
Man-in-the-Middle inline computers capturing browser traffic
SYSTEMS ADMINISTRATORS
Access to the entire LAN through a site-to-site VPN
Automate management scripts with hourly email reports
Receive alerts based on defined network traffic
Maintain remote access with Cloud C²
Quickly gather pcap (packet captures) files

Notice
This device is designed for experienced professionals in the field of IT administration and IT security. Its use requires the expertise and consent of the infrastructure owner.